Calton Hill Cannon
This is a well travelled cannon. The Royal Arms of Spain is in cast relief on top of the barrel. The cannon was transported to the Portugese colonies in southeast Asia sometime before 1785. There is an inscription along side of coat of arms, written later, and is thought to be Burmese, as the cannon was once kept by a Burmese King. It was captured by the British during the invasion of Burma in 1885 and presented to Edinburgh in 1886.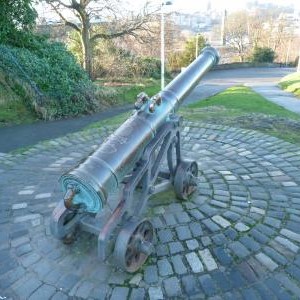 Dugald Stewart
The monument commemorates Dugald Stewart (1753-1828), a writer and philosopher who was born and educated in Edinburgh. The Royal Society of Edinburgh commissioned the monument and selected its site in 1830. It was built in 1831 and designed by William Henry Playfair, who also designed the nearby National Monument.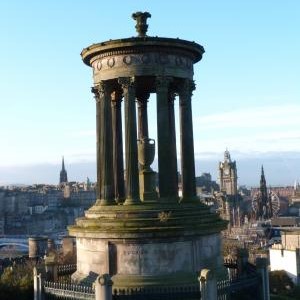 National Monument
The National Monument commemorates the Scottish soldiers who died during the Napoleonic Wars of 1803-1815. The foundation stone was laid on 27 August 1822 during George IV's visit to Edinburgh, but the monument was not begun until 1826. The monument was designed by William Henry Playfair and Charles Robert Cockerell and based on the Parthenon in Athens, helping to give Edinburgh the nickname, 'The Athens of the North'. The project was stopped in 1829 when funds for the project ran out and it was never completed.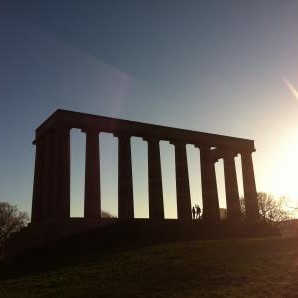 Nelson Monument
Commemorates Admiral Lord Nelson and the battle of Trafalgar, which took place on 21 October 1805. The monument resembles an upturned telescope. On the top is a mechanised ball, which is synchronised with the one o'clock gun fired from Edinburgh Castle. This is to give a signal of the correct time to the ships in the Forth. The time mechanism was installed in 1852. The original design of the monument was by Alexander Nasmyth, but this was rejected as being too expensive. The commission was passed to Robert Burn and the foundation stone was laid on 21 October 1807, the second anniversary of the Battle of Trafalgar. In 1814-16 the base was enclosed in a five-sided structure by Thomas Bonnar (to Burn's design). The carving of the San Josef, found above the main door, was added at this time. The San Josef was a Spanish man of war vessel and the flagship of the Spanish admiral Don Josef de Cordova at the Battle of Cape St Vincent in 1797. In this battle Nelson captured the ship and the admiral was killed. (source:www.rcahms.gov.uk).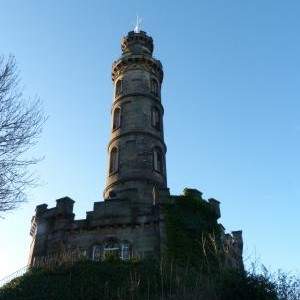 Playfair Monument
Designed by William Henry Playfair in memory of his uncle, John Playfair (1748-1819). John Playfair was a Scottish scientist and mathematician, and a professor of natural philosophy at the University of Edinburgh. He is best known for his book. 'Illustrations of the Huttonian Theory of the Earth' (1802), which summarised the work of James Hutton. The influence of James Hutton on the development of geology is thought to be largely due to its publication.