Monuments in the Hermitage of Braid
Hermitage Doocot
The dovecot is the second largest in Scotland, and once contained nearly 2000 sandstone nest boxes. It housed pigeons which were eaten by the family who lived in the main house. This building pre-dates the current Hermitage of Braid building, and may be considerably older. It is a category B listed building.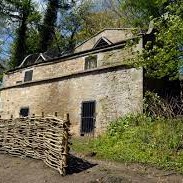 Ice House
The Ice house was built around 1788 when the main house was finished. It was used to store food. It was kept cold by filling the base with ice collected from local ponds and wrapped in straw, so it melted more slowly.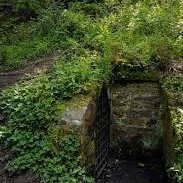 Memorial stone and sundial
The original sundial was installed in 1938 to celebrate the gift of the Hermitage to the City of Edinburgh by John McDougal. However the complicated bronze superstructure, which originally topped the plinth, was removed or lost at some time during the post-war period and was never replaced. In 2003 local resident, Mr George Russell, raised enough funds to install a new sundial and renovate the plinth. The new sundial is not the same as the original as it was considered the first style would be too vulnerable to vandalism. The new design was masterminded by Mr John Bartholomew in consultation with the Council and the Friends of Hermitage of Braid and Blackford Hill. The bronze design incorporates a beautifully drawn set of wildlife pictures created by Owen Kirby, as well as some details of how to use the sundial at different times of year and an attractive gnomon with inscriptions.