Floral clock blooms in honour for the Royal Botanic Garden Edinburgh's 350th anniversary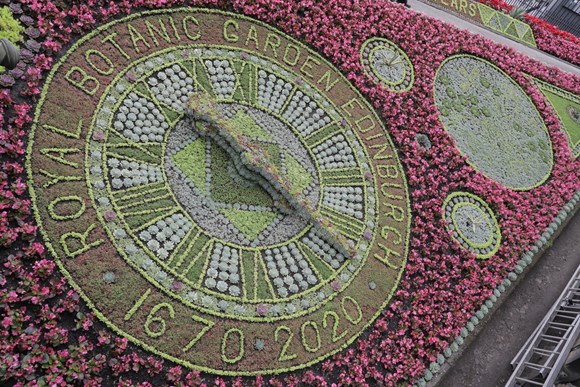 Work completed on 2021 Floral Clock
Work has finished to complete this year's design on the world's oldest Floral Clock in Edinburgh's West Princes Street Gardens.
For 2021, the hugely popular landmark will celebrate the 350th anniversary of the Royal Botanic Garden Edinburgh (RBGE), postponed from 2020 where it was decided with support from RBGE to dedicate the floral clock to NHS and key workers as a message of thanks from the city.
Edinburgh's Lord Provost Frank Ross was joined by Simon Milne MBE, Regius Keeper of Royal Botanic Garden Edinburgh, RBGE horticulturists and Council parks staff responsible for creating the clock. Together they officially unveiled this year's intricate design.
Our team of three gardeners took seven weeks to plant over 35,000 flowers and plants used to create the clock, which will be in bloom until October. There are over 15 different plants included in this year's design including many donated by RBGE such as Agave kerchovei and Agave sebastiana, various species of Echevaria and Cyanotis somaliensis: all of them are integral to the RBGE Living Collection of plants. The two teams had worked closely on the design and creation of this year's display, with the Council's Floral Clock experts advising on colours and choice of plants and how best to present the RBGE logo. The logo is representative of the Sibbaldia procumbens, a creeping plant in the rose family, that was named after the Garden's co-founder, Sir Robert Sibbald.
Edinburgh's Lord Provost Frank Ross, who spoke at the official dedication said: "I am delighted to once again see the city's beautiful floral clock completed, which I know will be enjoyed by everyone who passes by it this summer. Much like the city's floral clock, the Royal Botanic Garden Edinburgh is iconic to Edinburgh's past and present and this year's design celebrates 350 years.
"As always, I am delighted to officially unveil this striking and much-loved creation and I'd like to congratulate our dedicated and creative parks team who have put together the design and we can all now enjoy their realised vision."
Simon Milne MBE, Regius Keeper, Royal Botanic Garden Edinburgh, said: "It's wonderful to see our 350th anniversary celebrated in such magnificent floral fashion, reflecting the four centuries of friendship between the City of Edinburgh and the Botanics.
"The Floral Clock is a particularly apt way of celebrating the work of the Garden. At a time when 40 percent of plant species are at risk of extinction, our research and conservation work, supported by our visionary Edinburgh Biomes project, has never been more vital. We are grateful as always for the interest and support of the people and city of Edinburgh."
The Floral Clock was first created in 1903 by then Edinburgh Parks Superintendent, John McHattie, and is the oldest of its kind in the world. It initially operated with just an hour hand, with a minute hand added in 1904, followed by a cuckoo clock in 1952. Until 1972 the clock was operated mechanically and had to be wound daily.
Since 1946 it has been designed in honour of various organisations and individuals, including the Girl Guides Association, Robert Louis Stevenson and the Queen, for her Golden Jubilee. In the clock's centenary year in 2003 it won a Gold medal at the RHS Chelsea Flower Show.